Quick Access - Organization
Quick Access - Organization. Here you can see a rolling list of the most recent records you have worked on. Data is organized and displayed using a Data Table widget that allows column sorting and resizing.The magnifier pops a quick view of key information. You can make some "Favorites" so they stick around awhile instead of rolling off the list. In Manage, as an Admin you have direct paths to a wide variety of functions that happen based on what level you want. Like to edit or create users, edit lost time, or open OSHA reports. In Report, you easily create managements reports some you may not have realized were always there. Edit, takes you right to that organization level profile if it needs editing.
The users logon level and current pick level will be automatically added to the organization Favorites list and cannot be removed by the user.
Organization Menu Buttons and actions
Favorites
"Add To Favorites"
"Remove From List"
Manage
"Set Pick Level"
"Create User"
"Edit User"
"Edit Lost Time"
"Open Summary Reports"
"Open Osha Reports"
"Open Account Manager"
"Open Data Manager"
"Open Setup"
Report
"Level Summary"
"Incident Summary"
"Organization Report"
"User Report"
Edit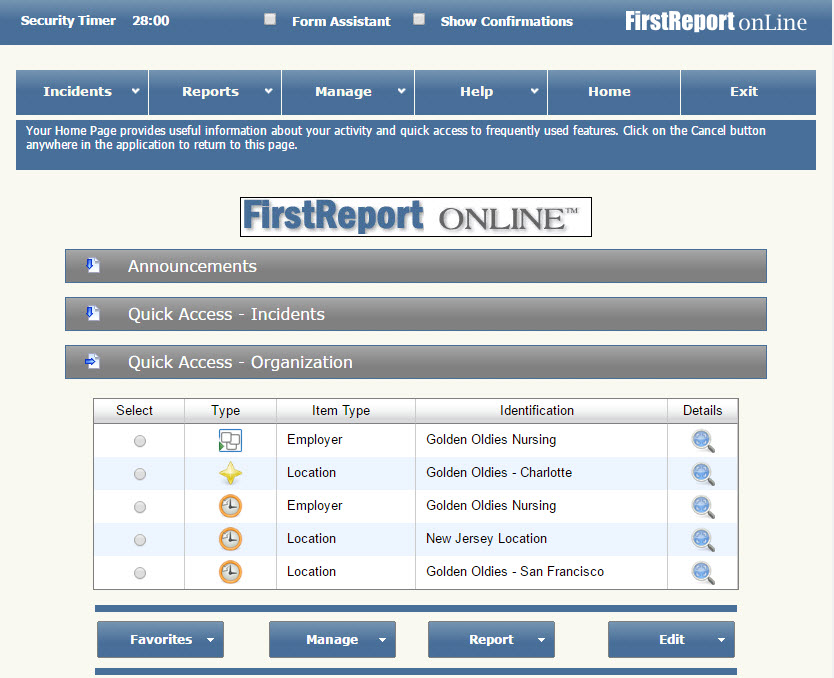 End article
---