FROL has added specific selections in several places. The primary point is in recording the "Cause of Injury" in the Incident Description section. As with all incident data points you may change this value any time you need to change it. The remaining points are related to searches and reports targeting COVID-19 incidents. Any state, federal or ad hoc reports that include the Cause of Injury data point would show the value selected.
Under "Cause of Injury" new choices:
COVID-19 ( <- label) (choices below)

Positive Work Related
Positive Non-work Related
Negative Work Related
Negative Non-work related
Exposed Work Related
Exposed Non-work Related
We incorporated these 6 items into the existing COI list. We revised all the descriptions used for printing and reporting to include "COV19" in the description. For example, in the COI list, if you pick "Positive Work Related" what actually shows up on the printed reports and exports is "COV19 Pos. Work Related".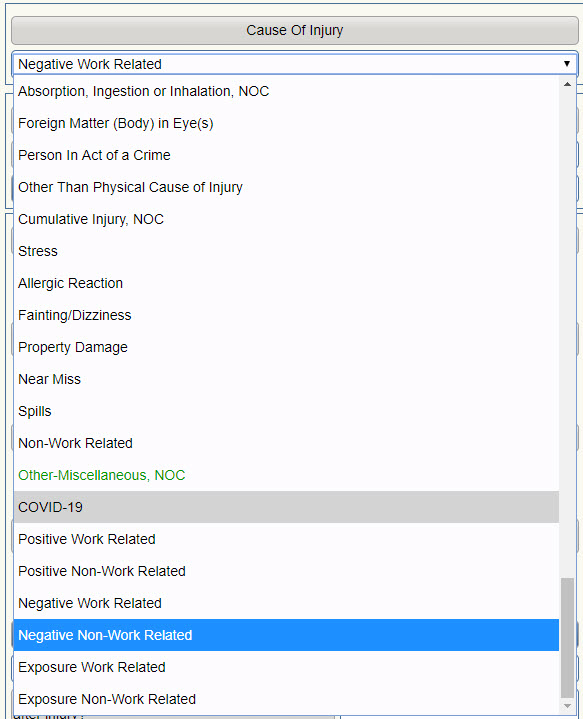 On the Data Manager and Summary Report forms, when you filter the results based on the Cause of Injury, you'll see that we added a 7th item to your list "Include all COVID19 related". If you pick this it will return all incidents that have any one of the individual items in the COVID COI list. This way you can get all of the COVID 19 related items in a single report.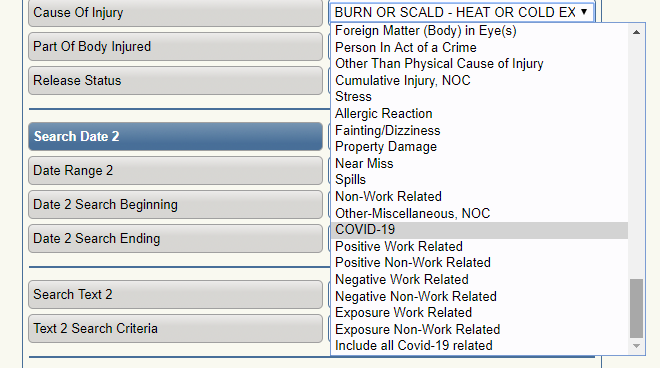 Summary Report